These are uncertain times and we wanted to give you some Coronavirus (COVID-19) advice for builders. The global pandemic has forced stringent lock down measures for the entire country. Whilst many sectors can safely work from home, builders and the whole construction industry is a sector where working from home just isn't possible.
A survey conducted by the Federation of Master Builders discovered that 98% of their members said that a quarter or fewer of their staff can work from home.
There is some confusion as to whether construction workers can, or should, be going back on site to continue to build, extend, fix and maintain our Nation's homes, buildings and infrastructure.
On the 31st March the Secretary of State for Business, Energy & Industrial Strategy, Alok Sharma, wrote an open letter to the UK's construction sector. You can read it in its entirety here.
He pays tribute to all of you who are working tirelessly within the construction industry, and says:
The Government has advised that wherever possible, people should work at home. However, we know that for many people working in construction their job requires them to travel to their place of work, and they can continue to do so. This is consistent with the Chief Medical Officer's advice.
The Construction Leadership Council has published a set of Site Operating Procedures (SOP). These align with the latest guidance from Public Health England. They will be kept up to date as the advice continues to change. You can take a look at them here.
That's very clear coronavirus advice for builders, if you work in construction and need to go to site, then you can do so. You need to follow the latest Site Operating Procedures, continue with safe social distancing, and wash your hands thoroughly.
Here at Ohutu, we have taken the latest Site Operating Procedures and added them into your project-specific Construction Phase Plan. This ensures that, from a health & safety point of view, the documents needed for your job are bang up to date.
We have also included the Secretary of State's letter in the Construction Phase Plan, in case you or one of your workers are questioned about whether they should be working on site.
We have added the Secretary of State's letter into your display documents too, so you can pin it up and show everybody how valuable the work is you're doing, and that the government has given you their backing.
In addition, we've created a social distancing poster and a hand washing poster too. These are also included in your display documents so you can put them up on site to support the Site Operating Procedures.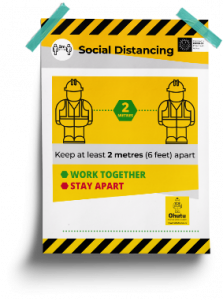 If you want to grab your own set of health and safety documents, including a site-specific Construction Phase Plan that includes the latest Coronavirus (COV-19) advice along with the handwashing poster, social distancing poster and copies of the Secretary of State's letter, then you can get them by giving Ohutu a try for free.
Existing Ohutu customers will naturally get these documents added into their existing documents at no cost.